BORDERLANDS FELLOWSHIP
A COLLECTIVE IMAGINING
Apparitions (Still), 2018 by Carolina Caycedo.
The Borderland Fellowships are biennial fellowships for two individual artists/scholars/thinkers that pair the distinct institutional resources of the Center for Imagination in the Borderlands and the Vera List Center for Art and Politics at The New School in New York City in order to support research projects that create communities across different geographical, cultural, and political landscapes engaging the public as well as students at both sites. The fellowships will focus on the relevance of place, thus seeking to support and apply an Indigenous lens to reflect on questions of borderlands. In pairing two artists/scholars/thinkers fellows and two host institutions as well as their staff and respective publics, the fellowships will focus on new ways of thinking about borders and bring to bear on the fellows' research the supporting institutions as well. The institutional alignment will hold the fellows' work and research and create and nurture contexts to deepen its impact.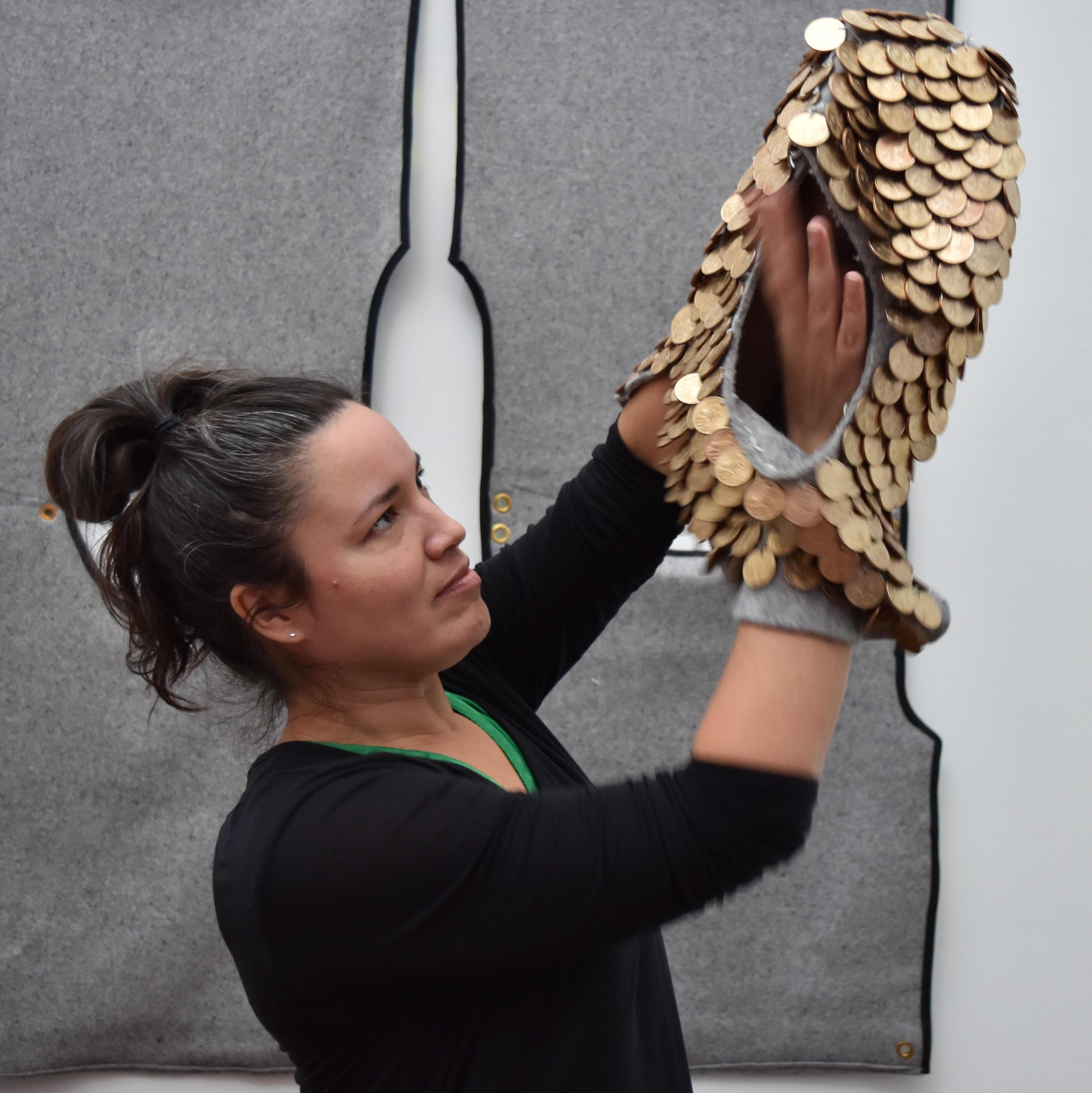 Maria Hupfield
Maria Hupfield is a transdisciplinary artist working in performance and media arts. She was awarded the Hnatyshyn Foundation prize for outstanding achievement by a Canadian mid-career artist (2018) and a Lucas Artists Fellowship in Visual Arts, Architecture & Design, Montalvo Arts Centre (2019-2020). Hupfield is a Guest Curator for the Artist of Color Council Movement Research at Judson Church Winter 2020 Season, and an inaugural resident of the Surf Point Foundation Residency 2020.
Hupfield's solo Nine Years Towards The Sun at the Heard Museum, Phoenix Winter (2019) focuses on exhibiting performance as living culture and follows her first major institutional solo exhibition in Canada The One Who Keeps on Giving a production of The Power Plant Contemporary Art Gallery, Toronto. Her work has shown at the Museum of Arts and Design, BRIC, Smithsonian National Museum of the American Indian in New York, represented Canada at SITE Santa Fe (2016), and traveled nationally with Beat Nation: Art, Hip Hop and Aboriginal Culture (2012-14); with recent performances at the National Gallery of Canada. Hupfield is an off-rez citizen of Wasauksing First Nation, Ontario, Anishinaabe Nation, and the recently appointed Canadian Research Chair in Transdisciplinary Indigenous arts at the University of Toronto.
The One Who Keeps on Giving, 2017; Double Punch, 2011; and Jingle Dress, 2002.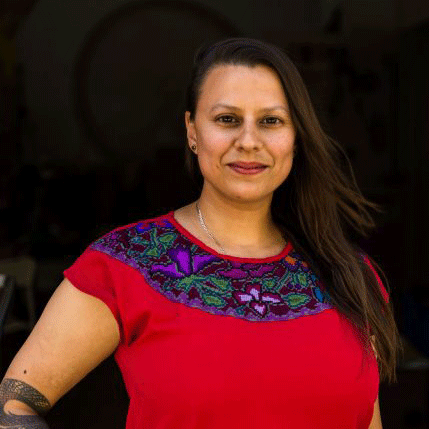 Carolina Caycedo
Carolina Caycedo is a London-born Colombian multidisciplinary artist known for her performances, video, artist's books, sculptures, and installations that examine environmental and social issues. She participates in movements of territorial resistance, solidarity economies, and housing as a human right.Her work contributes to the construction of environmental historical memory, as a fundamental element for non-repetition of violence against human and non-human entities.
Among others, she held residencies at the DAAD in Berlin, and The Huntington Libraries, Art Museum and Botanical Gardens in San Marino, California; received funding from Creative Capital, and Prince Claus Fund; participated in the Chicago Architecture, Sao Paulo, Istanbul, Berlin, and Whitney Biennials. Recent and upcoming solo shows include Care Report at Muzeum Sztuki in Łódź; Wanaawna, Rio Hondo and Other Spirits at Orange County Museum of Art; Cosmoatarrayas at ICA Boston; and From the Bottom of the River at MCA Chicago. Caycedo is the 2020 Wanlass Artist in Residence at Occidental College in Los Angeles. She is a member of the Los Angeles Tenants Union and the Rios Vivos Colombia Social Movement.
To Stop Being a Threat and to Become a Promise, 2017, and Serpent River Book, 2017, photo by Jessica Wittman; Thanks for Hosting Us, We Are Healing our Broken Bodies, 2019, photo by Bobby Gordon; Flying Massachusett, 2020, photo by Mel Taing; and Atarraya, 2016, photo by Camara de Comercio.